Quality Control
The properties f the ready-mixed concrete in the fresh and hardened states are prone to variations due to number of factors.
These Properties are dependent upon
Properties of different ingredients used in concrete.
Process control measures.
Optimization efforts in mix proportions.
Degree of quality control exercised by the producer.
Our quality process involves:
Allowing any raw material only after Quality Check.
Conducting all raw materials tests as per Quality Matrix.
Daily Tests: Sieve Analysis, Slit Test, Moisture Corrections, Temperature, Slump test, Compression test.
Weekly Tests: Flakiness, Elongation, PH, TDS, Fineness, Impact, Crushing.
Monthly Tests: Specific Gravity, Water Absorption, initial setting, Final setting, Standard Consistency.
Maintaining water to cement ratio and maintaining required slump for pumping and dumping as er the IS norms.
Educating the customers and the hydration treatment at the time of pouring to avoid cracks.
submitting the 7 days and 28 days test results to the customer.
Maintaining QCI audit reports as per the policy.
Finally ensuring the customer gets the required concrete at the site.
WHY LCC USING R.O WATER PLANT ?
R.O Water: Water is an important ingredient of concrete as it actively participates in the chemical reaction with cement. Since it helps to form the strength giving cement gel, the quantity and quality of water is required to be looked into very carefully. R.O plant helps to give salt free water, when such water is used in the concrete structure it helps in giving durability.
NOTE: Though it is an expensive system, LCC always abide to give a durable concrete to it's customers.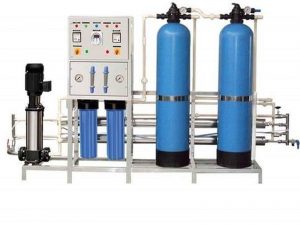 CONCRETE BATCHING PLANT
Fast & homogeneous mixing through worlds latest TWIN SHAFT MIXER Technology.
Fully Automatic PLC Control system with SCADA (Supervisory and Data Acquisition) for inventory management and report generation.
High accuracy because of higher capacity (75cum/hr) and more no.of lad cells with auto calibration mode at every stage.
TRANSIT MIXERS (TRANSPORTING)
High speed charge / discharge concrete performance.
Well maintained concrete uniformity during transport / delivery due t high precision C shaped spirals.
Exclusive vehicle tracking system service which can be viewed by customer to track and know the vehicle status as per time schedule.
Fast and reliable service.
Transit Mixer Transporting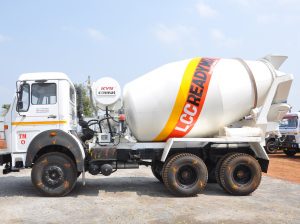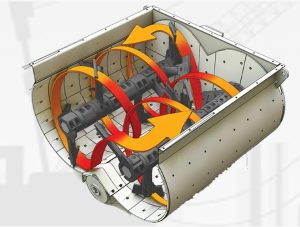 CONCRETE PUMPING SYSTEM (HANDLING CONCRETE)
High efficient pump with latest technology that can pump and place the concrete at customer's site.
Truck – mounted low noise, environmental friendly pump with highest delivery rate of 74cum/hr.
Pump can capable to deliver the concrete up to 20 floors (Approx. 200ft) vertical and 1500 ft. horizontal position.